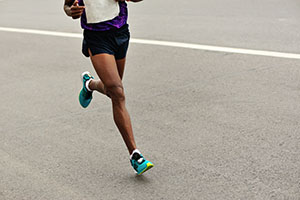 Running shoe companies are looking to 3D-printing to provide customers with the comfort and customization many runners require in running shoes. A new 3D-printing process, "selective laser sintering," creates components of a shoe one layer at a time and allows companies to engineer the structure of a shoe, from outsole to midsole. Companies such as Nike, New Balance, and Adidas have used 3D-printing in recent releases. The new process will allow athletic companies to create one-of-a-kind models from the bottom up and to hone in quickly on custom fits for their clients and their running shoe needs.
If you are a runner, wearing the right running shoe is essential. For more information, contact one of our podiatrists from Canonsburg Podiatry Associates. Our doctors can provide the care you need to keep you pain-free and on your feet.
Choosing the Right Running Shoe for Your Foot Type
To increase performance and avoid the risk of injury, it is important to choose the right running shoe based on your foot type. The general design of running shoes revolves around pronation, which is how the ankle rolls from outside to inside when the foot strikes the ground.
Neutral runners are able to choose from a wide variety of shoes, including minimalist shoes or even going barefoot.
Runners who overpronate, or experience an over-abundance of ankle rolling, should choose shoes that provide extra motion control and stability.
Runners who underpronate, or supinate, have feet that have high arches and lack flexibility, preventing shock absorption. They require shoes with more flexibility and cushion.
If you have any questions please feel free to contact our office located in Canonsburg and McMurray, PA . We offer the newest diagnostic and treatment technologies for all your foot and ankle needs.
Read more about Choosing the Right Running Shoe for Your Foot Type